It´s about myself, Chris Pressler, Chrisseven, Elvis. I´m one of the editors of www.continentseven.com, travel journalist, board tester for Starboard, PWA Slalom rider and sometimes windsurf instructor.

"Windsurfing is the key to my lifestyle and to my success in life. I collaborate with many people, who are very dedicated to the most exciting sport. I travel with Kerstin Reiger, work in the net with Florian Reiger. Svein and his team create the best toys and has the most crazy ideas and sail on Severne sails since September 2007, which work extraordinary well."
"In the future I want to improve my skills in Slalomracing and travel to many more places on this earth. Working on the perfect jibe and sailing at new spots around the globe. Alaska was hot, Morocco strange, the Western Sahara dry, California futuristic, Hawaii warm, Vietnam cheap, Thailand spicy, Mexico chilli, Malta big, Argentina lovely, Peru wavy, Venezuela different, Croatia lonesome, Italy funny, Spain sandy, Germany honest, Czech Republic sexy, Hungaria ancient, Austria small…..the latest trips did lead me to Asia (Taiwan, Phillippines, Malaysia), to Egypt and Croatia.
And I always try to keep all the new friends in my mind, who I could meet on the trips, because there is a true chance to meet them again" THE ROAD TO A FRIEND`S HOUSE IS NEVER TOO FAR"
My Slalom windsurfing career
I did not compete from the beginning on. When I was young, a kid at a the age of 5, I did ski racing, while all the top slalom sailors were already on the slalom course. Later I studied sports and geography/economy, had to make it through all the tests and limits at the Sports University of Vienna and started competing in some freestyle events around 2000 while living and working on Lake Garda. In July 2005 I started to sail on Slalom kit and really enjoyed it. I participate in the highest tour, the PWA tour and also compete in lower level events.  The more and more I race, the more I get hooked. 2012 is my 8th season.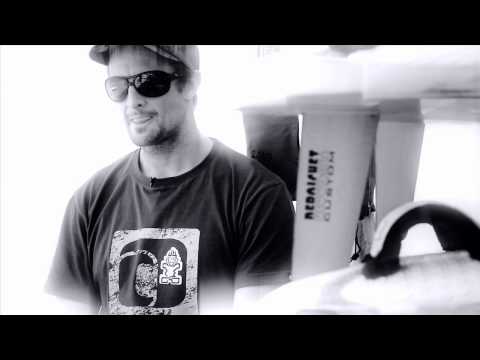 I like literature and movies
During my whole life I liked to read and since the day I bought contactlenses my view on life got sharpened. The movie itself got more important than in the days before. Was sitting with friends watching the movies, predominantly listened to the audio, because of being shortsighted.
Like books and movies with a story, which could be real or had been happening once. Explorations, actions, lifestyle. T.C. Boyle is one of the authors I would like to post: WATERMUSIK In the beginning was Hemingway, Steinbeck followed. But European literature is the stuff I need for my whole life, you don´t know how to get yourself in the right direction: Milan Kundera, "Die unerträgliche Leichtigkeit des Seins"
And about movies: what´s about Kill Bill, and indeed I prefer the stuff with not too many special effects. Inside the sport I like stuff from my film making friend Thomas Miklautsch, especially the part sailing in the Antarctica.
And my favourite surfing vids are: "Crystal Voyager" and "Thicker than water" and "Sipping jestreams". But it should not be a documentation, which can be boring, but should document a unit of time at least. A little story, which makes a product more exciting. It can be a big one, too, like "Thelma und Louise".